By Brent Black for CriticalJazz (June 9, 2011)
5 Stars
Ricky Sweum is a great deal more than your typical saxophone player! Pulling Your Own Strings is a rock solid release on the Origin label but it really is just a part time gig. Sweum has a full time position playing jazz with the United States Air Force band while currently stationed in Alaska, While the call of duty will soon have Ricky Sweum in Japan, I wanted to go back and take a look at record that swings all be it from a slightly different perspective. 
In a recent conversation with Sweum, he speaks with great fondness and pride at some of the incredibly rewarding musical experiences that the average musician may miss out on. Sweum artistic juices become on some outside projects such as Pulling Your Own Strings where Sweum can dig deeper into his creative soul and personal expression. Soon Sweum will be moving to Tokyo where the jazz scene may be second only to New York City. The adventure and lifestyle of being a professional musical nomad while serving this great nation is an adventure and a distinction Sweum holds with great pride! Pulling Your Own Strings is about breaking loose but not necessarily free of the more modern jazz tradition. Sweum is developing his own voice and dare it be said the Ricky Sweum is an integral part of the future of post modern jazz in an all to commercially oriented world.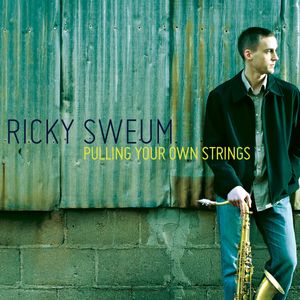 "Hot Sunny Day" is a personal favorite where Sweum expounds upon the legacy of the influence of the masters including Sonny Rollins, Lee Konitz and Charlie Parker. As and forever a searching artist, Pulling Your Own Strings is not about the groove but allowing your personal groove to set your own reality. In a very zen like observation Sweum states that we create our own reality. The world reflects what is going on in and around our being with our only option of controlling this sometimes superimposed destiny being that of pulling our own strings. "Sunset Iraq" is a magnificently created ballad and the possible theme of this tune is of soldiers fighting for freedom appreciating and looking at the sunset thinking of their home in the states where this same occurrence will soon be taking place. "The Dance of Ettenro" opens with a bright and breezy jaunt with Sweum on soprano and then the swing is kicked into overdrive as shifting meter and a unique harmonic development turn this tune into a sonic exploratory in overdrive. "State of Acceptance" is a deceptively understated ballad where the expressive tone and lyrical sense of purpose shine through as well as any on this release. Sweum pays homage to the legendary Sonny Rollins with "Under Sonny's Bridge" which is Sweum's original inspiration to play saxophone as Rollins would practise seemingly on an endless quest under the Williamsburg Bridge. A musical quest that while personal in nature is one that is of finding a sonic or artistic creative sense of peace while performing within the piece itself. A tune within a tune. A playful if not somewhat auto biographical end to this stellar recording is "Ben and Jerry's Delight." This tune is a staple in jazz clubs throughout the New York City. As an admitted "pint by pint" consumer of this tasty treat, "Ben and Jerry's Delight" makes perhaps the unknowing statement of acceptance that this indulgent along with say a constant dissection of the works of say Lee Konitz is a possible origin of his own muse. 
There is a subtle energy, a musical current or sonic tide that easily carries the listener into the realm of the quest of the searching artist. This release was dedicated to the passing of the great Michael Brecker and given the variety, development and artistic vision this is indeed a release that would make Brecker smile. 
An exceptional release of artistic independence and of intimate self exposure, Pulling Your Own Strings is an epic release. A musician that has found his musical happy place somewhere between where he is now and where his future will take him. We should all be so lucky!