More Than Imaginable
Released on Ninjazz Records in 2012, saxophonist Ricky Sweum joins forces with the world-renowned talents of drummer Clarence Penn, pianist Edward Simon, and bassist Dave Robaire. This fiery and exciting session captures 10 uniquely varied Sweum originals. The disc showcases his penchant for modern-grooving- free-blowing vamps coupled with beautiful melodic playing reminiscent of classic ECM recordings of the 1970's.
Listen on Spotify & Apple Music
Credits
Ricky Sweum: tenor & soprano saxes;
Clarence Penn: drums;
Dave Robaire; bass;
Edward Simon: piano
Recorded June 8th, 2011 at Acoustic Recording, Brooklyn, NY, USA. 
Recording Engineer: Michael Brorby. 
Mixed and Mastered by Michael Perez-Cisneros, Brooklyn, NY, USA. 
CD Design by Donald Wallace/Wallace Creative Inc. 
Photographs by Kofi Okai. 
Produced by Ricky Sweum. 
All compositions by Ricky Sweum. Molecular Expansion Music (BMI). 
Released 2012 by Ninjazz Records.
Photos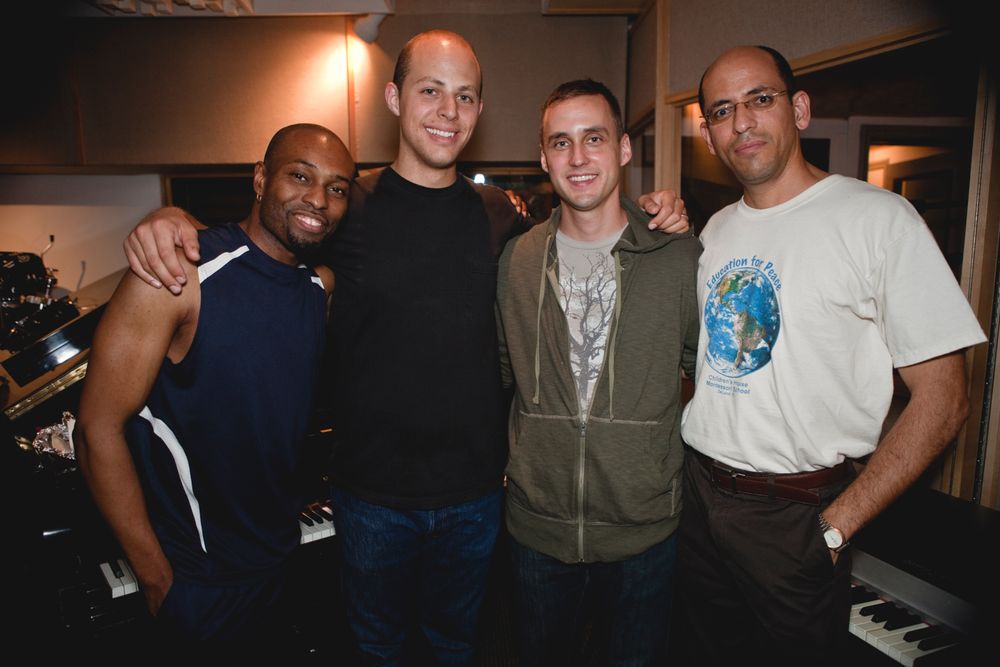 Reviews
Ricky Sweum Nails It!
By Brent Black for CriticalJazz (June 8, 2013) 
5 Stars 
Ricky Sweum is one of thousands of musicians working the scene today that is working more than one job. Sweum's work as a recording artist may in fact be considered secondary to his primary position as working for the Air Force Band of the Pacific stationed in Anchorage, Alaska where he tours the United States, Japan and Australia. It's not just a job it's an adventure. O.k. wrong branch of the service but you feel me. 
Sweum is a name to remember, an up and comer having been featured in the Random House book, "The New Face of Jazz: An Intimate Look at Today's Living Legends and the Artists of Tomorrow" (2010). As a military musician, Sweum has performed before millions throughout the United States and at such notable venues as Carnegie Hall, Monterey Jazz Festival and the Macy's Day Parade to name but a few. 
More Than Imaginable is the latest release from Sweum, a blistering session capturing 10 varied Sweum originals proving his more than ample talents as one of a half dozen true jazz triple threats. Performer, composer and producer has Sweum quickly moving to the top of the straight ahead line of all star performers. "Earth Squid" is a blistering vamp showcasing Sweum's ability to more than hold his own on any bandstand today. The dialed back swing of "Barry's Barnacle Blues" has Sweum performing double duty on soprano saxophone while a first call rhythm section anchored by the controlled sonic fury of drummer Clarence Penn owns the pocket. Bassist Dave Robaire and pianist Edward Simon round out this stellar rhythm section that can lay down a groove as tight as any rhythm section working today. Sweum's soprano work is lyrically straight ahead - Coltrane-eque if form and functionality. Perhaps the most captivating aspect of this formidable 4tet is that even Sweum's sound gracefully sidesteps strict categorization. Straight ahead, post bop or hard bop or perhaps a more individualistic style that brings the listener close to the avant-gard cliff without ever coming close to pushing them or the band over the sonic edge. "Belonging" is a beautiful more ballad oriented tune that seems somehow magically lost in sonic space. Pianist Edward Simon moves the lyrical direction while keeping harmonically grounded but dynamically diverse. 
More Than Imaginable is indeed a magnificent work lost in space. Modern post bop with a retro-groove of a time gone by, Ricky Sweum is charting his own musical course and that is one of the road less traveled.
More Than Imaginable, AllAboutJazz
By Edward Blanco for AllAboutJazz.com (April 13, 2012) 
4 1/2 Stars 
West coast saxophonist Ricky Sweum grew up in Eugene, Oregon, and spent many years as a freelance musician in New York before embarking on a military career, joining the Air Force Academy Band in 2003. After a stint with prestigious jazz big band The Falconaires as lead tenor, in 2011 he moved on and now works with the Air Force Band of the Pacific in Anchorage, Alaska where he tours the U.S., Japan and Australia. Still, Sweum manages a professional career separate from his military commitments, where an extensive résumé finds him as a sideman as well as dabbling with some independent material dating back to 1994. On More Than Imaginable, Sweum reveals more of his own work, on his own label and with a first-rate lineup—altogether resulting in a surprisingly top-notch recording. 
More Than Imaginable represents Sweum's second major release as leader since his 2009 Origin Records debut, Pulling Your Own Strings. Piloting a quartet featuring Venezuelan-born piano wonder Edward Simon, drumming sensation Clarence Penn and Southern California bassist Dave Robaire, Sweum takes to the air with ten sophisticated and varied originals, continuing his exploration of modern jazz in creative fashion. The innovative new sounds start in electrifying style with the hard-driving "Earth Squid," a high-flying energetic piece capturing strong performances from both the saxophonist and drummer Penn. Simon and Robaire take their turn on the intricate "Barry's Barnacle Blues," which features Sweum on soprano. 
Though there are plenty of solid solos and other highlights on this fine disc, the title track and subsequent "Canyon Dance" provide special moments, delivering the best solo spots from both Simon and Sweum. "Belonging" and "Kiva" are similar in texture—both clearly gems of modern music, though the latter has a more percussive feel. Sweum's tender tenor leads the music on a brief but beautiful "Things You Think You Have To Do," a deliciously light ballad featuring brushes, a soft touch from Simon and Robaire's delicate bass lines. 
While Sweum's dazzling statements on both tenor and soprano saxophones remain a key feature, it is his skill as a composer that may leave the most lasting impression. This ten-piece repertoire of originals concludes with his most ambitious composition, engaging the band on "Kerabag's Trance," its mesmerizing sound enduring long after an almost ten-minute duration. Serving as a natural vehicle of modern jazz, More Than Imaginable captures Sweum's penchant for modern grooves and melodic playing in a highly accessible album that's far better than can be imagined.
All Albums
Click on the CD images for more information.