Earth Song
Released on Ninjazz Records in 2019. Each song gives listeners a glimpse into the artist's unique approach and stretches his content towards different directions and ideas. From understated melodies to sophisticated arrangements with an unpredictable feel, Ricky will take you on an exciting musical journey, which truly knows no boundaries in terms of where the music can take you.
- Peter Vidani (thebandcampdiaries.com)
Interview
Interviewer: Why did you record Earth Song?
Ricky: I spent the last six years living in Japan and prior to that, one year in Alaska, and I wanted to capture the energy of my experience on record before moving back to America. Life in foreign lands allowed me fresh perspective on spirituality, nature, and humanity. Composing and performing music is the best way I know how to share the energy and insights I've experienced. I believe sound vibrations can be imbued with intention, which can have a positive subconscious effects on the listener. I've approached this music from a meditative state and hope that hearing it inspires people to more fully realize their creative spirit. 
Saxophonist legend, John Coltrane, has long been an inspiration to me. In particular, his recording, "A Love Supreme," has been of monumental influence. Coltrane brought deep spirituality to his music, and I am merely following the path he set forth.
Interviewer: Tell us about the music on the album.
Ricky: The title track, Earth Song, is a melody I wrote many years ago, and my mother, Barbara-Joy Weston, wrote the lyrics. My mother was a sound shaman who taught me the power of using sound vibrations to bring healing to others. We have the power to heal the planet. As the lyrics go, Earth Song, "is an ancient story of how we used to love the Earth of how we lived in harmony with all things."
The track, Energy Dance, was composed on my wedding anniversary after climbing Japan's Mt Takao with my wife. After hiking to the top, we stopped at the zen monastery and ate a traditional vegetarian meal prepared by buddhist monks. Then, climbed down to the base of the mountain and soaked in natural hot spring mineral baths. We felt tremendously energized by bathing in the energy of the mountains, trees, and water. Also, being married for decades is both a real and metaphoric "energy dance."
The track, Majestic, is about living with an attitude of daily celebration in that each day is a MAJESTIC gift of creative potential.
Interviewer: Is there a significance to your tune named Consciousness?
Ricky:  All that is perceived and experienced in one's life appears in consciousness. Nothing exists that isn't first in our consciousness. Our senses, thoughts, and feelings all appear in the realm of consciousness.
Listen on Spotify & Apple Music
Credits
Ricky Sweum: tenor & soprano saxes;
Dennis Lambert: piano;
Zak Croxall: bass;
Britt Ciampa: drums;
Benjamin Paille: trumpet;
Julie Bradley: vocal.
 
Artwork by Lynden Stone.
Lyrics by Barbara Joy Weston.
Photos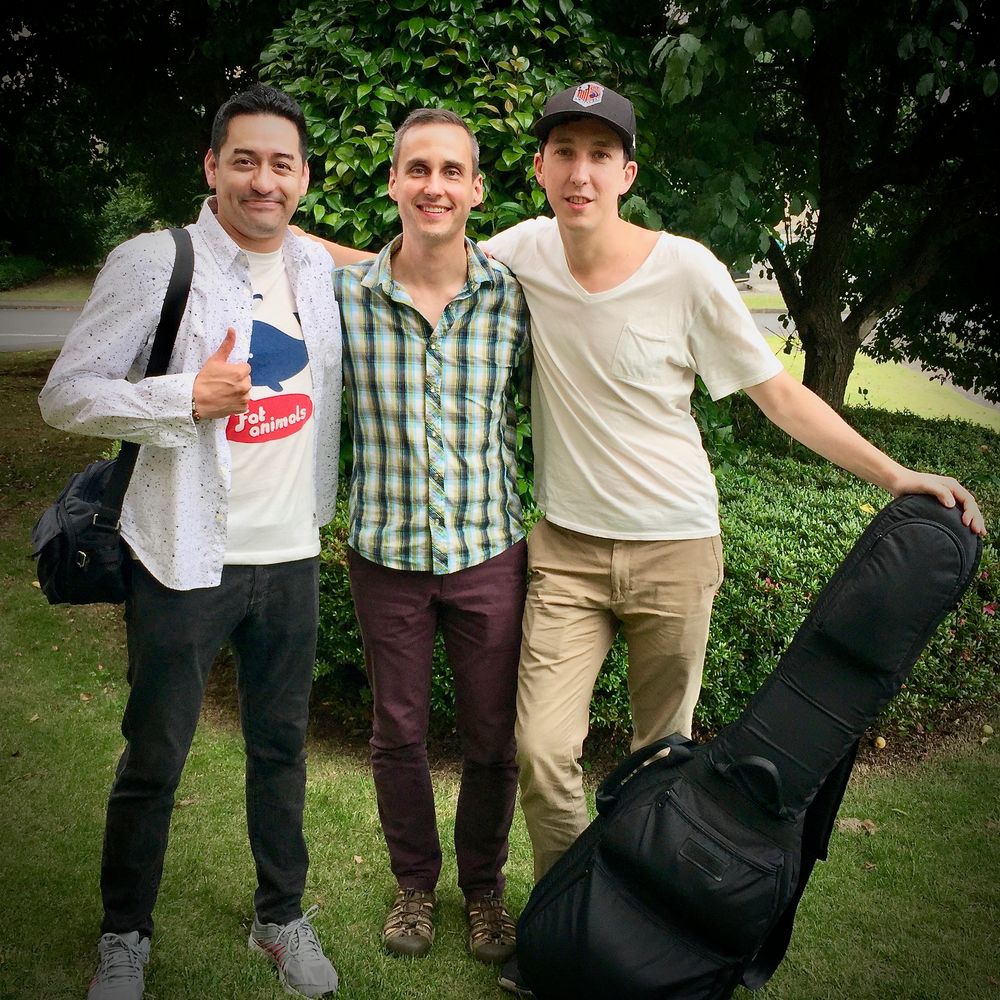 Reviews
A jazz-inspired artist with a broad creative scope, and an eclectic taste in music. 
Ricky Sweum is a saxophonist and composer with a really unique feel. He is passionate about jazz, but he has a deep love for all kinds of music, including world, electronica, experimental, and many other genres. 
As a result of his eclectic taste, Ricky comes off as a creative artist who isn't limited to categories. He perceives sound as something fluid and unique, and he is always keen on exploring a wide range of influences, making for a unique vibe. Recently, Ricky set out to release a brand new studio album. This project is titled "Earth Song" and it features 11 studio tracks. 
Each song gives listeners a glimpse into the artist's unique approach and stretches his content towards different directions and ideas. From understated melodies to sophisticated arrangements with an unpredictable feel, Ricky will take you on an exciting musical journey, which truly knows no boundaries in terms of where the music can take you.  In addition to the beautiful music, I am also quite impressed with the artwork - love the drawing and the unique aesthetics it brings to the table! 
One of the perks of jazz is that this genre is almost by definition, free and open-ended. It is a perfect platform to explore various ideas, and it is a powerful personal match with an artist like Ricky, someone with such a varied taste in music! In addition to his spontaneous executions, the production of this release is also really distinctive. The textural qualities of these recordings highlight the human elements behind the music, and gives off a sense of openness that is surprisingly hard to find on most releases in this day and age. 
In spite of that, jazz is often at risk. Some musicians are fossilized on the same styles and the same influences, and they fail to grasp the real spirit of the genre, which in my opinion, has often been about breaking patterns and avoiding hard and fast rules. Thankfully, Ricky is all about following his instinct on this amazing release, letting his personal muse and diverse background pave the way to an amazing collection of tracks.
Earth Song, FV Review (Review) 
Ricky Sweum is a sensational Jazz artist based in the California Bay Area. He is predominantly a saxophonist and band leader for the US Air Force Band and we have been lucky enough to review his latest release, 'Earth Song'. 
The opening song 'Watermelon Power Generator', is an excellent representation of what is to come on this record. We hear multiple wind instruments throughout the track, each playing their own parts. These are completely separate from one another but they come together to work as one cohesive piece. There are wonderful moments of harmonies and melodic genius to be devoured. The bass and drums work as a solid backbone accompaniment for the piece and create a template for the saxophone to shine. The sax riffs soon become recognisable and are consistently interesting, thought-provoking and engaging throughout the piece. 
'Earth Song' is the compelling title piece. It features strong yet gentle female vocals which carry a message of peace and unity. With times as they are in the world today, these are two things which we are in desperate need of. The lyrics are thoughtful and heartfelt and in particular the lyric, "Let the madness cease" deeply resonated with us. The saxophone is very impactful on this song and takes on a role which is equally as moving as the vocals. We adored the part where the sax and piano are vibing along with one another. Together they create a magical wonderland filled with character and enchantment. Blissful. 
We adored the song 'Radiance' because it has an unexpected genre cross over into a jazz blues hybrid. The song is filled with unexpected melodies and twists and turns throughout. 'Energy Dance' is the shortest song on the album but it packs a big punch from beginning to end. The staccato piano and bass create a wonderful platform for the saxophone to dance over the top of – which it does in style. 
The closing song, 'Expansiveness' sees the addition of synths to the musical family. It is a beautiful piece which has a different feel and new direction to the rest of the album. It made us wonder, is this the direction Sweum's next album will take? We can't wait to find out! 
It is clear that Sweum is an excellent musician and composer. He plays all of the saxophone parts on the record and they are filled with luscious melodic performances which are relatable and sensational throughout. 'Earth Song' was also produced by Sweum. He has achieved a high quality sounding record with songs which could easily be used for placement in TV, Film and/or games. 
Make sure you check out this wonderful artist today. 
Reviewed by FVReviews December 2018