By Brent Black for CriticalJazz (June 8, 2013)
5 Stars
Ricky Sweum is one of thousands of musicians working the scene today that is working more than one job. Sweum's work as a recording artist may in fact be considered secondary to his primary position as working for the Air Force Band of the Pacific stationed in Anchorage, Alaska where he tours the United States, Japan and Australia. It's not just a job it's an adventure. O.k. wrong branch of the service but you feel me. 
Sweum is a name to remember, an up and comer having been featured in the Random House book, "The New Face of Jazz: An Intimate Look at Today's Living Legends and the Artists of Tomorrow" (2010). As a military musician, Sweum has performed before millions throughout the United States and at such notable venues as Carnegie Hall, Monterey Jazz Festival and the Macy's Day Parade to name but a few.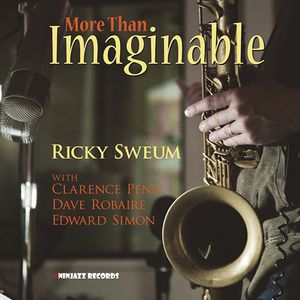 More Than Imaginable is the latest release from Sweum, a blistering session capturing 10 varied Sweum originals proving his more than ample talents as one of a half dozen true jazz triple threats. Performer, composer and producer has Sweum quickly moving to the top of the straight ahead line of all star performers. "Earth Squid" is a blistering vamp showcasing Sweum's ability to more than hold his own on any bandstand today. The dialed back swing of "Barry's Barnacle Blues" has Sweum performing double duty on soprano saxophone while a first call rhythm section anchored by the controlled sonic fury of drummer Clarence Penn owns the pocket. Bassist Dave Robaire and pianist Edward Simon round out this stellar rhythm section that can lay down a groove as tight as any rhythm section working today. Sweum's soprano work is lyrically straight ahead - Coltrane-eque if form and functionality. Perhaps the most captivating aspect of this formidable 4tet is that even Sweum's sound gracefully sidesteps strict categorization. Straight ahead, post bop or hard bop or perhaps a more individualistic style that brings the listener close to the avant-gard cliff without ever coming close to pushing them or the band over the sonic edge. "Belonging" is a beautiful more ballad oriented tune that seems somehow magically lost in sonic space. Pianist Edward Simon moves the lyrical direction while keeping harmonically grounded but dynamically diverse. 
More Than Imaginable is indeed a magnificent work lost in space. Modern post bop with a retro-groove of a time gone by, Ricky Sweum is charting his own musical course and that is one of the road less traveled.