By Edward Blanco for AllAboutJazz.com (April 13, 2012)
4 1/2 Stars
West coast saxophonist Ricky Sweum grew up in Eugene, Oregon, and spent many years as a freelance musician in New York before embarking on a military career, joining the Air Force Academy Band in 2003. After a stint with prestigious jazz big band The Falconaires as lead tenor, in 2011 he moved on and now works with the Air Force Band of the Pacific in Anchorage, Alaska where he tours the U.S., Japan and Australia. Still, Sweum manages a professional career separate from his military commitments, where an extensive résumé finds him as a sideman as well as dabbling with some independent material dating back to 1994. On More Than Imaginable, Sweum reveals more of his own work, on his own label and with a first-rate lineup—altogether resulting in a surprisingly top-notch recording.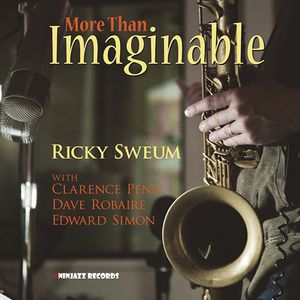 More Than Imaginable represents Sweum's second major release as leader since his 2009 Origin Records debut, Pulling Your Own Strings. Piloting a quartet featuring Venezuelan-born piano wonder Edward Simon, drumming sensation Clarence Penn and Southern California bassist Dave Robaire, Sweum takes to the air with ten sophisticated and varied originals, continuing his exploration of modern jazz in creative fashion. The innovative new sounds start in electrifying style with the hard-driving "Earth Squid," a high-flying energetic piece capturing strong performances from both the saxophonist and drummer Penn. Simon and Robaire take their turn on the intricate "Barry's Barnacle Blues," which features Sweum on soprano. 
Though there are plenty of solid solos and other highlights on this fine disc, the title track and subsequent "Canyon Dance" provide special moments, delivering the best solo spots from both Simon and Sweum. "Belonging" and "Kiva" are similar in texture—both clearly gems of modern music, though the latter has a more percussive feel. Sweum's tender tenor leads the music on a brief but beautiful "Things You Think You Have To Do," a deliciously light ballad featuring brushes, a soft touch from Simon and Robaire's delicate bass lines. 
While Sweum's dazzling statements on both tenor and soprano saxophones remain a key feature, it is his skill as a composer that may leave the most lasting impression. This ten-piece repertoire of originals concludes with his most ambitious composition, engaging the band on "Kerabag's Trance," its mesmerizing sound enduring long after an almost ten-minute duration. Serving as a natural vehicle of modern jazz, More Than Imaginable captures Sweum's penchant for modern grooves and melodic playing in a highly accessible album that's far better than can be imagined.