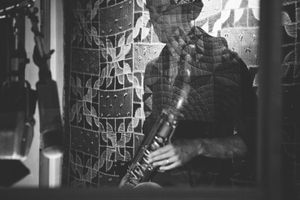 QUOTES
"

Ricky is a burning tenor player with technique and ideas to spare...well worth checking out!" - David Liebman
"

Ricky plays with one foot rooted in the tradition and one looking to the future. He is a wonderfully creative saxophonist and prolific composer." - Gary Smulyan
"

Streaming hypnotic lines together one by one, he tells the story of a soul who must sing and does so with unadulterated beauty and intelligence" - Cicily Janus
— New Face of Jazz
"

...solos are inventive and exciting." - Marian McPartland
"

Ricky plays with a maturity and control of his instrument that is a real pleasure to listen to. His sound commands your attention." - Bill Evans (sax)
"

Ricky Sweum is an excellent saxophonist...beautiful and musical...a pleasure for my ears." - James Moody
BIOGRAPHY
Ricky Sweum is a national award-winning American jazz saxophonist, recording artist, composer, educator, and music producer.  He has recorded ten solo albums, appeared as a sideman on over 40 albums, and has performed with and led U.S. Air Force Bands for two decades.  Ricky is a P. Mauriat Saxophone Performing Artist.  
His performance and teaching talents have been showcased to tens of millions of people around the globe in places as wide-ranging as Carnegie Hall in New York City, remote Arctic Circle villages in Alaska, ancient Kabuki theaters in Japan, Muslim boarding schools in Indonesia, and ships cruising through the Caribbean.  Ricky has played music for audiences in every U.S. state, Australia, Japan, South Korea, China, Thailand, Singapore, Indonesia, Mexico, and Canada.  
Ricky is an instructor at Colorado College and directs the Tiger Jazz Ensemble, teaches saxophone, jazz theory, improvisation, and music business. He is the Graduate Saxophone Adjunct for the University of Arkansas at Monticello. Many of his students have won music scholarships to top colleges and universities throughout the nation and gone on to become professional musicians and educators. Ricky holds a Master of Music in Jazz Studies from the University of Arkansas at Monticello, and a Bachelor of Professional Studies in Music Production from Berklee College of Music where he graduated Summa Cum Laude.